Textiles Minister launches Eco Friendly Jute Bag initiative in Delhi Mother Dairy to offer jute bags to customers at all Mother Dairy/Safal outlets in Delhi - NCR
Textiles Minister launches Eco Friendly Jute Bag initiative in Delhi
Mother Dairy to offer jute bags to customers at all Mother Dairy/Safal outlets in Delhi - NCR
It is well-known that the indiscriminate use of polythene bags is one contributor to the pollution problem in the national capital. The National Green Tribunal (NGT) has on multiple occasions, tried to ban use of plastic carry bags in Delhi. However, we find these plastic carry bags continue to be used commonly.
Residents of Delhi now have a choice and can themselves restrict use of plastic bags by using eco-friendly, biodegradable and low-cost jute bags. Mother Dairy, National Jute Board (NJB) and Birds Jute & Exports Ltd. (BJEL) have joined hands in this green venture, to provide attractive, low cost jute bags at the thousand-odd booths of Mother Dairy/Safal in Delhi – NCR.
The venture is promoted by NJB, bags are manufactured by BJEL and supplied to Mother Dairy for distribution at its booths. The formal launch of the scheme has been done today i.e. 19th April 2016, by the Union Textiles Minister Shri Santosh Kumar Gangwar.
Through this scheme, one can purchase one's daily requirement of perishables from reliable outlets of Mother Dairy and Safal, along with the option of buying environment friendly, attractive, low cost jute bags too. Available in the price range of Rs 25/- to Rs. 35/-, these bags are strong, washable and can be used several times over, making them cost effective.
These bags are provided at Mother Dairy and Safal outlets by Birds Jute & Exports Limited (BJEL), a PSU under the administrative control of Ministry of Textiles, Government of India.
The Textiles Minister had launched Common Facility Centre Scheme of the National Lute Board on 1st September, 2015 at Kolkata, under which 5 CFCs were to be set up. Out of the five CFCs, two CFC's at Hoogly & 24 Parganas are being run by BJEL under which different Women Self Help Groups (WSHGs)/ micro entrepreneurs manufacture Jute Diversified Products. The Mother Dairy jute bags will provide such WSHGs a regular market and sustained means of livelihood.
Mother Dairy has placed an initial order of 20,000 jute bags - 10,000 units each for Mother Dairy and Safal. Based on the response of residents of Delhi/NCR, repeat orders shall be placed. These bags are being supplied by BJEL on cost to cost basis; any profit earned in future will be passed on to the artisans and members of the WSHGs.
Speaking on the occasion, Shri Gangwar urged upon the people of Delhi to make a smart choice by opting for the jute carry bags - now available at their nearby Mother Dairy and Safal booths. The Textiles Secretary, Smt. Rashmi Verma and Managing Director, Mother Dairy Fruits and Vegetables Pvt. Ltd., Shri Nagarajan Sivaramakrishnan
were also present for the launch event.
First Meeting of All India Handloom Board held
Government is committed to develop and promote handloom sector: Textiles Minister
Government has chalked out a new strategy for revival and resurgence of handloom industry: Minister
India Handloom Brand launched to regain consumer confidence: Shri Santosh Kumar Gangwar
'India Handloom' Brand registration granted to 170 handloom producing agencies and weavers in 41 product categories: Minister
Government has significantly expanded its support to handloom clusters: Minister
New model of credit for handloom sector introduced, to be implemented all over India: Shri Santosh Kumar Gangwar
Handloom weavers to receive enhanced insurance coverage, now under national social security schemes: Minister
Textiles Minister launches handloom weaver information system for more effective implementation of handloom schemes
We are working with a vision to increase the wages of skilled handloom weavers to the level of Rs. 500/- per day. Our major interventions will be to cover five lakh weavers in MUDRA Scheme in next three years and also to take up 300 more block level clusters for development. We are also aiming to enhance handloom exports from about Rs. 2,500 crore to Rs. 4,500 crore in next three years.
-

-
Union Textiles Minister and Chairman, All India Handloom Board,
Shri Santosh Kumar Gangwar at the first meeting of the Board, on 19th April, 2016
The first meeting of the recently constituted All India Handloom Board was held in New Delhi, on 19th April, 2016. The Chairman and Union Textiles Minister, Shri Santosh Kumar Gangwar gave an overview of the various initiatives being taken by the Government for the development of the sector.


Our vision is to increase the income of Handloom weavers to 500 rupees per day: Minister
@
santoshgangwar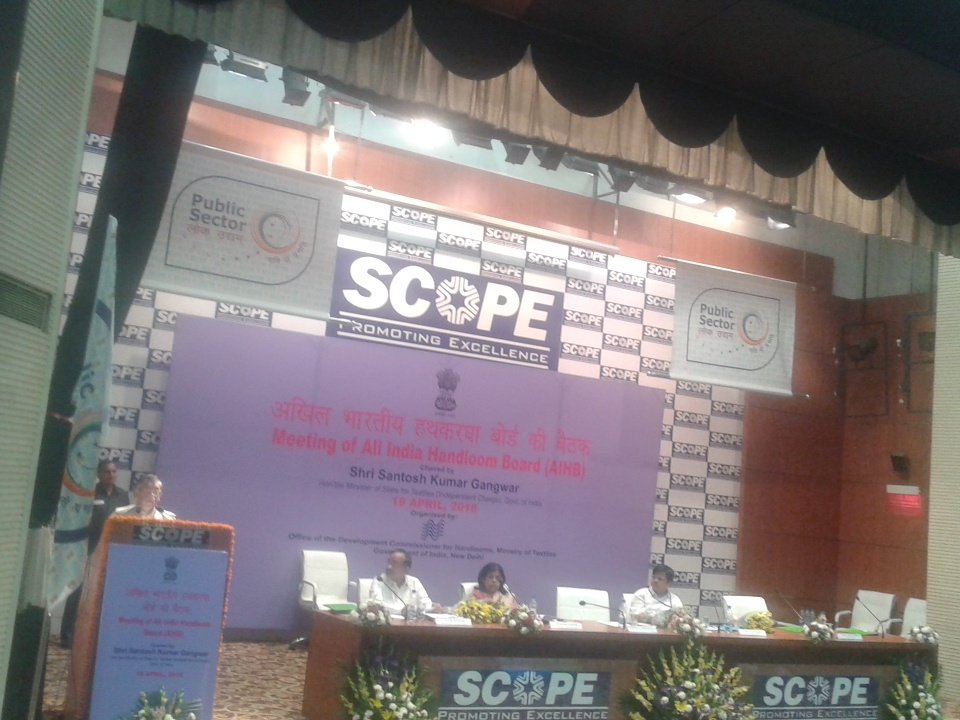 @
TexMinIndia
look at how to reach more global clients/consumers. We generate greater interest in hand made textiles by design translation
The Minister conveyed to the Board members that the Government under the leadership of Hon'ble Prime Minister Shri Narendra Modi is implementing a newly chalked out strategy for revival and resurgence of the handloom industry. Shri Gangwar said that the new strategy for revival of the handloom industry has the core objective of increasing the earnings of handloom weavers through skill upgradation, loom upgradation, availability of good quality raw material at cheaper rates, availability of adequate credit facilities, product design and development and branding for effective marketing.
Shri Gangwar recalled Government's declaration of 7th August as National Handloom Day, as a mark of recognition and respect for the contribution of millions of handloom weavers across the country to our economy as well as to the rich culture and tradition. The first National Handloom Day was celebrated all over the country and at the main function in Chennai, Hon'ble Prime Minister was himself the Chief Guest. He said that to give a new identity to handloom industry, the 'India Handloom Brand' too was launched by the Hon'ble Prime Minister on the occasion.
The Textiles Minister said that the new strategy is demand-driven, so that production can be made according to consumer preferences. He said that the most important initiative in this regard has been the launch of 'India Handloom' Brand, aimed at regaining consumer confidence, through quality endorsement in terms of authenticity, azo-free dyes, and fast colours. He informed that 'India Handloom' Brand registration has so far been granted to 170 handloom producing agencies and weavers in 41 product categories. Shri Gangwar said that this is being supported through a comprehensive marketing campaign. He said that India Handloom brand producers have reported a sale of more than Rs.15 crore within a period of about four months. A marketing research study is also being undertaken. The Minister also spoke of the open door e-commerce policy framework. He added that more buyer-seller meets would be held, to strengthen marketing linkages.
The Minister said that on the supply side, the Government has significantly expanded its support to handloom clusters, in terms of Common Facility Centres (CFCs), skill upgradation, assistance for loom upgradation and effective project management through services of full time Cluster Development Executives and competent designers. Shri Gangwar recalled that the amount sanctioned for mega clusters in year 2015-16 was highest ever, at Rs. 37.11 crore; further, a record number of 175 block level clusters have been sanctioned in 21 states. The Minister said that a block level cluster can avail financial assistance up to Rs. 2.00 crore. He also highlighted the increased assistance given during FY 2015-'16, in terms of skill upgradation, technology upgradation and CFCs. The Textiles Minister said that the budget utilization for handloom sector in the year 2015-16 was Rs. 591 crore, which is 25% higher than the previous year.
Speaking of the initiatives taken to improve managerial skills in the handloom sector, Shri Gangwar highlighted the introduction of four-year course in handloom technology, at Indian Institute of Handloom Technology (IIHT), Salem and launching of handloom entrepreneur course at IIHTs at Bargarh, Varanasi and Salem. The Minister added that national awards in design intervention and marketing have been instituted in order to encourage innovation in handloom sector.
The Minister informed that the Government has come out with a new model of credit for handloom sector; this has been done by combining elements of concessional credit such as margin money, interest subvention and credit guarantee cover with the innovative features of MUDRA scheme, launched by the Hon'ble Prime Minister. He said that a pilot project has been successfully implemented in Odisha and Uttar Pradesh, and is being extended to seven other clusters. The Minister informed that the per capita credit has gone up from about Rs. 23000/- to more than Rs. 50,000/-; some loans have been sanctioned even up to Rs. 5.00 lakh. The beneficiary is given a RUPAY card through which he/she can withdraw money from ATM. Shri Gangwar said that the Government has decided to implement the scheme all over India, for which he sought cooperation of state governments.
The Minister informed that life insurance and health insurance benefits to handloom weavers will now be provided through national social security schemes; he said that steps have already been taken to complete this convergence in an expeditious manner. The Minister said that the Health Ministry has issued instructions to all state governments to ensure coverage of handloom weavers under RSBY with immediate effect. The available assistance will now be Rs. 30,000/-, as against Rs. 15,000/- earlier. He added that the Government is in the process of providing coverage to handloom weavers in Pradhan Mantri Jeevan Jyoti Yojna; it will provide an insurance cover of Rs. 2.00 lakh in case of death due to any reason, as against the present life cover of Rs. 60,000/- in natural death and Rs. 1.50 lakh in case of accidental death.
Shri Gangwar said that Information Technology is being harnessed in a significant way, for bringing transparency and ease to beneficiaries in accessing facilities. The Minister said that under the Enterprise Resource Planning (ERP) project of National Handloom Development Corporation Ltd., weavers will be able to place indents online, track status of their indents, view the stock of materials in yarn depots, get information about unused quota in yarn subsidy scheme and get important information on dispatch of material through SMS in their local language.
During the meeting, the Textiles Minister launched a web portal for continuous upgradation of details of handloom weavers, which will enable effective and easy implementation of various schemes. He said that a dedicated website has already been launched, where applications for 'India Handloom' Brand registration can be submitted. The Minister announced that a portal-based application for allotment of stalls in sale exhibitions will also be launched soon; this will enable handloom weavers to register their application online, doing away with the need to go to Weavers Service Centres for the same. He said that the allotment of stalls will be done through the software and will be displayed on the portal for full transparency.
Due attention is being given to effective implementation of Handloom Reservations Act as well, the Minister said. Shri Gangwar said that effectiveness of the implementation can be judged from the fact that in FY 2015-'16, 140 FIRs have been lodged till February 2016, as against 88 FIRs in the year 2014-15; 119 convictions were obtained this year, as against 66 last year.
Textiles Secretary and Vice Chairperson, Smt. Rashmi Verma; Development Commissioner (Handlooms) and Member Secretary Shri Alok Kumar, and other members of the Handloom Board
were also present for the meeting.