IAF Contingent Ready for Ex Red Flag: Departed from India on 03 Apr 16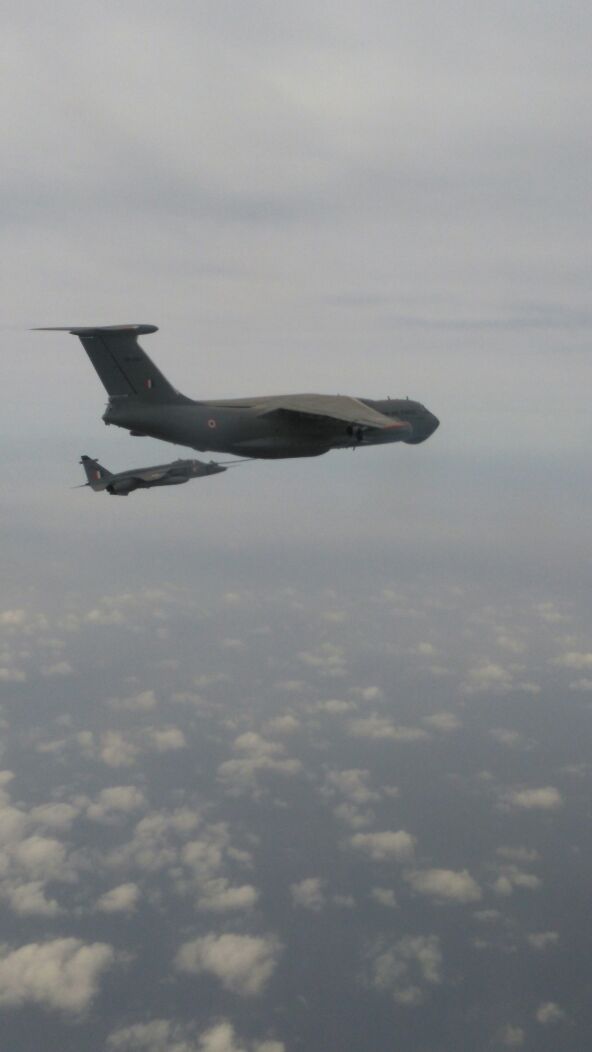 IAF Contingent Ready for Ex Red Flag: Departed from India on 03 Apr 16

The US Air Force (USAF) has invited the Indian Air Force to take part in the Air Exercise,
"Ex-Red Flag-16-1"
which is scheduled from 28 Apr 16 to 13 May 2016 at Eielson AFB Alaska. The Exercise Red Flag is a multinational air exercise, originally conceived in 1975 by USAF to provide operational exposure and mutual exchange of Op capability of friendly Air Forces.
The IAF contingent along with the aircraft departed from Jamnagar on 03 Apr 2016 for Eielson Air Force Base Alaska in USA. The contingent led by Group Captain H Assudani would aim to demonstrate its ability to project air power in transcontinental deployment of a task force comprising Su-30 MKI, Jaguars, IL-78 tankers and C-17 strategic airlift aircraft.
During the exercise, Su-30 MKI and Jaguars along with USAF fighters will be operating in composite formations under various near realistic scenarios. The exercise will provide ample opportunity for exchange of ideas relating to concept of operations in a dynamic warfare environment. This multinational air exercise assumes importance in view of the continued engagement of the IAF with Foreign friendly countries.
***********
Coas Meets Un Secretary General Ban Ki-Moon

Gen Dalbir Singh, Chief of the Army Staff along with Ambassador Syed Akbaruddin, Permanent Representative of India to UN met Mr Ban Ki-Moon, Secretary General, United Nations on 04 Apr 2016. The Secretary General appreciated the strong support of India to UN Peacekeeping, which is the second largest at 7695 troops among all UN troop contributors. He admired the commitment, discipline and quality of Indian Peacekeepers in the United Nations.

The Chief of the Army Staff assured the Secretary General of the continued commitment of Indian Peacekeepers to global peace, with the highest standards of training, discipline and dedication.
*********
Visit of COAS to USA

The Chief of Army Staff (COAS), Gen Dalbir Singh, is embarking on a four day goodwill visit to USA from 05 to 08 Apr 2016. The visit assumes special significance in light of enhanced defence cooperation between the two countries. The visit is a part of the ongoing High Level Exchanges between India & USA.

India-U.S. ties have been transformed in recent years with a renewed Defence Framework Agreement, supply of defence equipment, sharing of technology and military-to-military exchanges.

During his four days visit, the COAS is scheduled to meet the UNSG at the UN HQ to strengthen Indian Army's commitment towards UN Missions. He will also visit CENTCOM, SOCOM & HQ 1 Corps & Maneuver Centre of Excellence (MCoE) where he will meet the Commanders & have extensive discussions. In Washington he will meet US Secretary of Army, Chairman Jt Chiefs of Staff, Chief of Staff of the US Army & Commander US Marine Corps, along with other officials.
**********
Ships of First Training Squadron (1 TS) Visit Thailand

Indian Naval Ships Tir, Sujata, Sail Training Ship (STS) Sudarshini alongwith Indian Coast Guard Ship Varuna, comprising the 1st Training Squadron entered Phuket, Thailand today and shall stay till 08 Apr 16 as part of Overseas Deployment during Spring Term 16. The Senior Officer of the 1st Training Squadron, Captain SR Ayyar, would be embarked on board INS Tir.

The First Training Squadron forms part of Southern Naval Command (SNC) and comprises Indian Naval Ships Tir, Shardul, Sujata, ICGS Varuna and two Sail Training Ships Sudarshini and Tarangini, all of which have been built in India. The primary aim of the Squadron is to impart sea training to Naval and Coast Guard trainees, with a 24 weeks ab-initio sea training being imparted. All the trainees are trained in Seamanship, Navigation, Ship Handling, Boat Work, Technical aspects, etc. whilst being exposed to the rigours of life at sea, so as to earn their 'sea legs'.

The Southern Naval Command (SNC) is the Training Command of the Indian Navy, which provides both basic and advanced training to officers and sailors of the Indian Navy. Vice Admiral Girish Luthra, AVSM, VSM is the Flag Officer Commanding-in-Chief, Southern Naval Command. The Indian Navy has also been providing training to personnel from friendly foreign countries for more than four decades, wherein more than 13,000 personnel from over 40 countries have been trained. The Indian Navy's focused approach for providing high quality training by constantly adapting to evolving tactics and technologies, has gained it a reputation of being one of the finest training destinations.

India and Thailand have a close, long-standing relationship covering a wide spectrum of activities and interactions, which have strengthened over the years. The present deployment of the Training Squadron to Phuket provides opportunities for extensive maritime engagement, contributes to the maintenance of good order at sea and further cements the close relations between the two nations and the two navies.